he did not want to serve me
signs were all there
no boots
no packs
filthy pilgrims
tracking mud and sweat
into his bar
but finally
cafe con leche
I warm my wet hands
at the corner table
look at all the faces
in the photos on his walls
friends     music
family      laughter
he sees
I take my empty cup
back to him
buen camino
he tells me
with the softest smile
Day of rest. Because sometimes the Sabbath has to happen on a Monday. Walked 9 km to a small town, Castroverde, boasting a shiny new albergue with no kitchen towels or utensils, but many flies. So it goes sometimes. But I was third to get a very clean bed, so this was a great day.
I waited for the albergue to open by having coffee and a chocolate-filled croissant and writing my postcards. Once checked in at the albergue, I mailed the postcards for the weekly cost of 6.75 euros, the price of a bed – then went back to the cafe and paid for my breakfast, which I had forgotten to do. We had teased Joanna relentlessly, "Remember to pay for your food!" because she once forgot; Francesca had copped to it, too. So now it was my turn. No such thing as a free lunch.
The hospitality of Spain took some getting used to. I had been quite confused by it, at first. Whether I ordered a full Menú Peregrino, a bocadillo, or just a cafe con leche, from a table or walking up to the bar, I was nodded to – and then left to study my map, enjoy the view, or strike up a conversation. Every time was like a white-tablecloth affair, even just a coffee: my order was brought to me, but I didn't have to pay immediately. And a check rarely came – most times, I had to initiate payment. And remind the barman what I had ordered. The honor system.
Coming from a world of ordering and paying at the counter, it was easy to forget to go back. At home, you had to order fast, pay fast, and often took your order to go, especially on a Monday morning. But the bars in Spain were filled with men drinking coffee and and talking politics and sports; the markets were jammed with women comparing prices and stories. Payment took second place to meeting up with your neighbors, catching up on family, discussing the world. My take on Spain was that this very traditional society was built on talking face to face, side by side.
Loudly. Bad manners, to yell your political ideology at a coffee shop back home; making your point, in Spain. Seventeen-year-old me glanced up and then smirked over my notebook, pleased to be the quiet one for a change, a spy in the house of love, "gathering clues to be used in the war of the affections."
I'm on your trail
you're never alone
one day you'll slip up
and leave a lip print on a coffee cup

— Was (Not Was), "Spy in the House of Love"
I stopped this morning in Vilabade, and locals opened the 15th-century Church of Santa Maria for us, the peregrinos chatting and taking a rest together in chairs set out beside a food truck.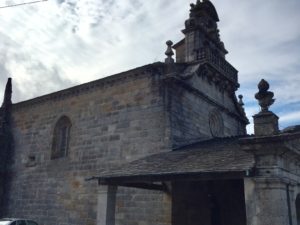 I loved the churches. I loved the archways, I loved the crazy, colorful, gilded over-the-top altars, I loved all the statues of saints carved in wood and polished smooth as satin, I loved the creaky wooden pews.
I loved the darkness, and the quiet. I loved the windows way up high, that let the morning light filter in. I loved that songs had been sung here since 1457.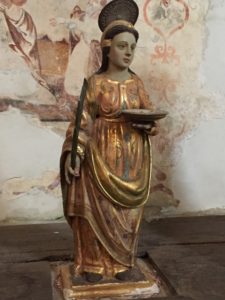 The patron saint of this church was Santa Carmen, protector of sailors and ships, landlocked here, nowhere near the sea. I thought of the ship of stone, waiting at Muxia. I remembered hurling my burden stone on the mountaintop, and wondered about the Camino stone I still carried beneath my water bottle. I felt attached to it, like I carried it for a reason; I just didn't know what that reason might be, yet.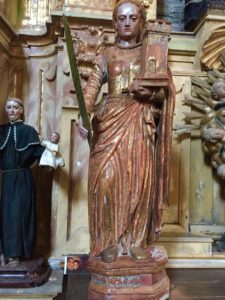 Tucked away along the side aisle stood Santa Barbara. As always, she was portrayed with strawberry-blond hair, like mine in my youth, dressed all in red. I liked her as the Lady in Red, the color of blood and fire and passion. Typically portrayed carrying the tower where she had been imprisoned (now reduced to the size of a doll's house), she stood holding the sword that had been used to cut off her head. She claimed the symbols of her suffering as her raison d'être, literally her reason to be, moving beyond them, a self far too expanded to be contained now, powerful enough to take back the weapon of her own destruction.
I marveled at her. "This is Santa Barbara," the local woman told us.
"Yes, and this is Barbara, our Barbara," Christoph had said beside me, smiling broadly. "We have our own Santa Barbara."
Trail-named. An honor. I had been called out to by this name, from restaurant patios and albergue doorways, seeing Joanna or Christoph or Felix laughing and smiling as they did so, but never so christened as in that moment, before the statue, in the church.
I had always hated my name, prior to the Camino. A harsh-sounding Greek name, it meant, "a foreigner, a wanderer, a stranger in strange lands." It had only confirmed my feeling as an outcast. To make it worse, to me, it had always sounded like the unattractive name of a middle-aged church lady with bad hair and bad clothes. Which is exactly what I was just then. My crewcut had grown out into a wavy mop that I tamed with my Basque-earring'd hat, my hiking clothes utilitarian and not particularly flattering. No flowing red robes, my sweaty tanktops. No more golden mermaid hair of my younger days; this Sampson had met too many Delilahs-in-disguise, so I'd chopped it off myself, hoping to avoid being noticed any more.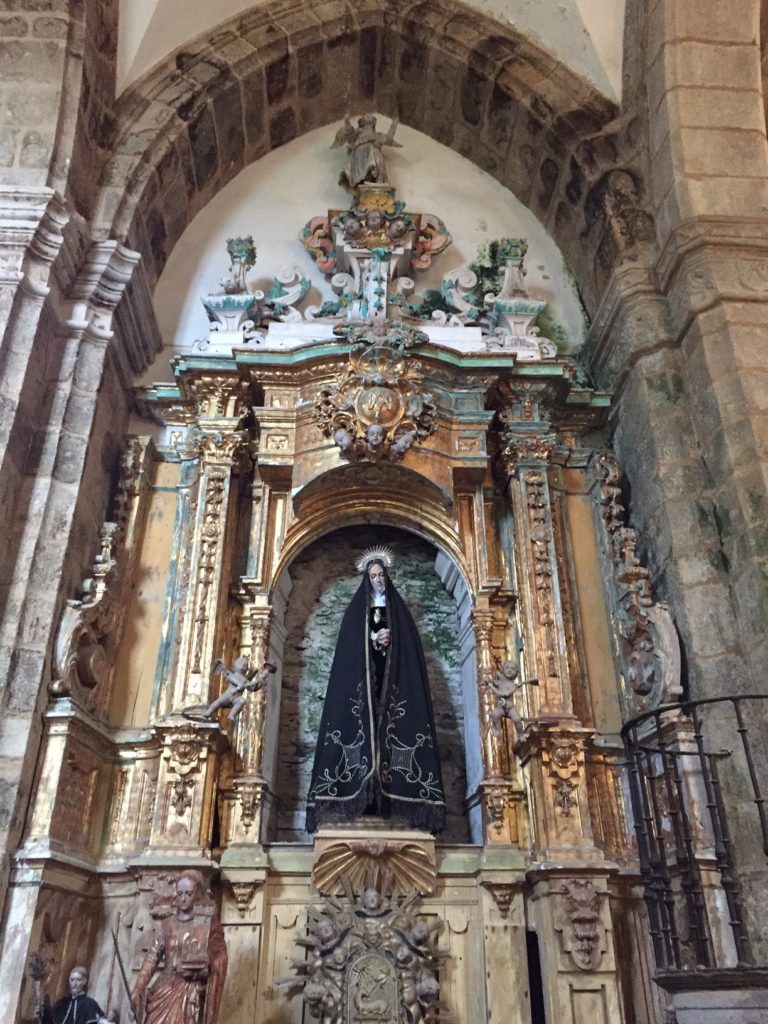 But like my bushy hair, I was trying to grow into my name. I had decided to embrace "The Wanderer," reclaiming my birthright, before I left home. Wanting to write again, I had created a website where I could chronicle my great escape plan, posting essays describing my thoughts and feelings as I contemplated making a break for it, ditching the ivory tower of the American Dream for my own personal dream: to see the world, and write about the world's people.
A lover of Pablo Neruda, the great Chilean poet, I named my site after my favorite line, his words etching themselves across my heart:
Our love is like a well in the wilderness where time watches over
the wandering lightning….

— Pablo Neruda
I wanted to live that poetic image, write about the instances of synchronicity in our lives, those moments when we are thunderstruck by understanding, finding and drinking from that deep well where we learn to care more deeply…because we are connected.
I named my website "wandering lightning." Having purchased the domain and set up the site, on a hunch, an intuition, I felt drawn to look up a translation of my name. Not my first name – my middle name, Lynn. I'll never know why I decided to look it up; it had always been a bland segue between my irritating first name and my honorable last name, the name of my Viking forebears from Denmark. So I was shocked, spooked, and thrilled to find out that the Danish word "lyn" – was the word for "lightning."
My name was Wandering Lightning.
In Spain, I learned that, having been burned, Santa Barbara just happened to be the patron saint of trial by fire. And of lightning.
gathering clues to be used in the war of the affections
I'm a spy in the house of love
I won't be refused
I'm waiting for your heart's defection

— Was (Not Was), "Spy in the House of Love"