the butterflies of Spain

delight

to bring us

with them

over fences

into flowers
I did not expect Guadalupe to kick my butt. On the first day of the Camino del Norte route, I left Irun a bit overconfident on the route toward the Santuario de Guadalupe. I thought that since I could run three miles and hiked the Rockies, I was conditioned. Totally wrong. These mountain trails went straight up – one after another. And it was hot – before 8am. And sadly, my delicious coffee was not enough to power me; ditto the two little packaged muffins provided by the albergue.
Usually, I ran on fumes. A handful of trail mix, an apple, or a couple spoonfuls of peanut butter on the way out the door. And of course, coffee. I never drank it until I turned 24. That was the year I became a single parent of three, all preschoolers. I later became a single parent of four. And then a single parent of five. I created a comeback line, to hide my own frustration as well as my sense of being judged: "Well, girl's gotta have a hobby…." It often got a good laugh, and I could stand taller, as if these broken vows and broken homes for my children were fine by me. In one sense, they actually were fine: I stood for a certain honesty, a rugged, fierce truthfulness, and damn the consequences. Which was the inevitable outcome each time. So my brutal honesty and I lived happily ever after, raising a tribe of brilliant hooligans and wayward angels, my favorite people – Vikings with the souls of artists. This was in fact our heritage, and we were insufferably proud of it, especially me. When the going gets tough, the tough get going. Get up early, stay up late to finish what needs to be done. You're the only one. Down some coffee and pocket a couple muffins for later.
In my career as an addiction counselor and case manager, I'd been taught to nod supportively and then ask my sick, tired, homeless clients, "So – how's that working for you?"
The good news on the Camino: I was meeting people already. That was working for me. Katrina, who was in grad school in Belgium, studying psychology. Her sweetness was a balm for any day. Kati, from Germany, strong as a bear; her backpack was lost by the airline, so she was collecting replacement gear. Having bought a small pack, she found a few items on the albergue donativo table of freebies. I gave her my pack cover, in case of rain. I had my travel duffle, a sturdy stuff sack for transporting my backpack on the plane so the straps and zippers wouldn't be damaged en route. I figured I could tuck it upside-down over my own pack. Thankful and delighted, she started out walking with me, together with Katrina and others we'd met, all enthusiastic and eager to go.
The bad news: one by one, everyone waved goodbye to me as they left me in the dust. Because I was so slow. A new embarrassment welled up around my Viking pride, as I considered that my combination of factors – age (51), lax training, low blood pressure in the heat, THE HEAT, the intensity of the trail, all of it piled on top of my heavy pack – could well kill me. Time to ditch more from my pack. Day One, and I'd already emptied things twice into multiple plastic bags I left behind, on the donativo table, on random benches, into the trash. But I was still too heavy. I needed to get rid of more.
Thirty degrees has more than one meaning, and at least two apply, I thought, puffing up the steep route. My tank top clung like the mercury in the thermometer, soaked with perspiration as if I'd been crossing myself against this baptism by fire. As I hiked up a vertical death march to reach the church of Guadalupe, suddenly a bamboo grove sprung from behind the wire fencing along the path. Startled in my sweaty exhaustion, I stopped to wipe my face with my cotton scarf and have a better look. The grove was dense, yet languid as it all moved in the slightest breeze – which felt heavenly.
It called to mind my second son, Daniel, who wanted to plant walls of bamboo instead of fences. He loved the renewability and usefulness of it. He was like this himself, tall, fluid, exotic and surprising, committed to self-renewal and a useful life.
And – on the other side of the dirt path – two burros ate ordinary grass under ordinary apple trees. Daniel also had a great fondness for humble burros. I had imagined that it was their useful sturdiness, their seeming tirelessness under burden. While he appreciated those aspects, he had added with a grin, "And – they're just so cute!" Daniel often gave gifts of unexpected delight. One of my favorites from his childhood: a small paper box that, upon opening, exploded a rainbow of origami birds into your hands. Now in the late morning heat, I stood resting in Daniel's joy of the unexpected, in his eclectic energy, rejuvenating my resolve in the shade from bamboo and apple trees beside the little burro buddies. They were cute, and fun to watch, nuzzling each other one minute, headbutting the next.
Finally atop the first hill, I entered the dark cool of Guadalupe's sanctuary, a carved and gilded altar hidden within. I had not expected this santuario in Spain. I knew of Guadalupe only from her Mexican hilltop story; her familiar shining visage was common where I'd lived in Colorado and New Mexico. The name "Guadalupe" is a place name; in Spain, it was thought to be derived from Arabic words for "river of the wolf." As I refilled my water bottle at the pilgrim's fountain outside the church, I felt like I was hiking that riverbed, the dirt of a vertical arroyo, straight up the path of a waterfall run dry, heat exhaustion howling in my ears and blisters biting into my feet.
I remembered how, in grade school, Daniel had done a project on reintroducing wolves to the American West. More than his difficulties with the project, I remembered his conviction that the benefits to the ecosystem outweighed the risks. He had been just a child then, yet he wanted a world that renewed itself naturally, difficult though that might be.
The trail rose again after Guadalupe, ascending straight to the top of a mountain. I hiked along the crest, more mountains on my left, ocean to my right. A herd of ponies emerged from a copse of trees, nodding up the steep slope together, the blue water behind them. I sang Daniel's "Horse Boy" song I had written when he was four, about my Sagittarius child "whisking the flies with a flick of his mind." I tried to practice this approach and not faint in the heat, humming and panting down the other side of the mountain into Donibane.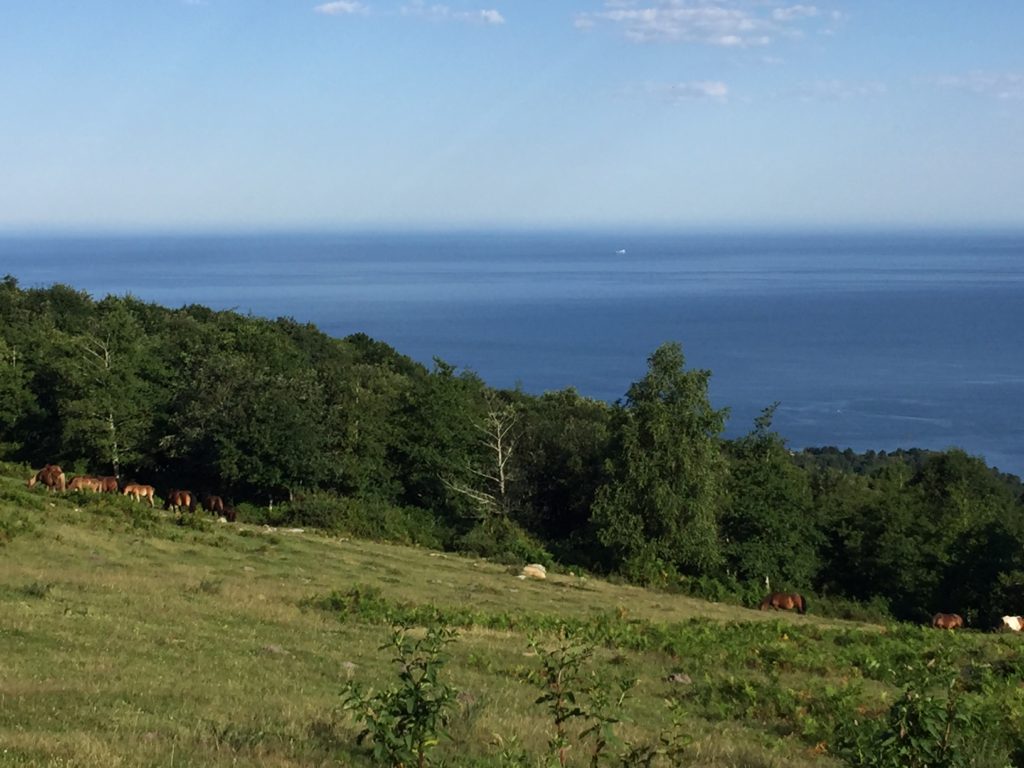 Entering this quaint harbor town, I was relieved to find Kati, and together we found a cafe for lunch. Food and wine, at an outdoor table, with chairs to sit in and chairs for our feet. I complained of my surprise at the steep trail, comparing it to hiking a ski run, and Kati's wide smile and laughter in response was as refreshing as our meal. I learned that many European trails are equally steep, and Kati was well seasoned to easily walk the Camino. She suggested trekking poles, which I had never used, but I scoffed because I had never needed them before, in the Rockies, of Colorado, as if this trail had been created incorrectly, over the centuries…by the penitent. Santiago the Pilgrim is portrayed in a traveling cloak, a floppy traveler's hat, scallop shells on the shoulder cape of his cloak and on the front of his hat; and in his hand, always, is a tall walking stick, with a drinking gourd tied to it. As I realized how I sounded, I quickly retracted my words: "Yes – however, I think it's time for me to find a stick." I thought maybe I'd buy one in the next city of any size we came to.
I wanted to just stop. In my ignorance, I didn't realize that I could; I found out later there was a small but clean albergue in Donibane. But I didn't know, and my guidebook said my stopping point was still a half-day's hike away. "Over another mountain," Kati warned.
"I know," I sighed.
"This part's supposed to be harder," Kati added.
"I know," I sighed deeper. When the going gets tough, the tough get going. But I wasn't feeling all that tough any more.
We ferried across the harbor to reach the next stage of the trail. "Well…," Kati began as we reached our signpost.
"Yes, off you go – buen camino!" I smiled at Kati. She took off up the hillside.
I held a hand to my eyes and looked up at the steep steps built into the hill. And that's when I first noticed them: the butterflies. They had been swirling around me periodically during the morning, but now I took a moment to see that they were fluttering just ahead of me. As I stepped forward, they continued farther up the path, as if beckoning me to follow. I tightened the straps on my backpack and slowly climbed the intense hill out of Donibane.
*       *       *       *       *       *       *       *       *       *       *       *       *       *       *       *       *
It was climbing the second mountain that I met Saulomon, originally from Mexico and now from Los Angeles. Saulomon was sleek, fit, and charming, with wide-set eyes that crinkled happily when he smiled a perfect, wide smile. We talked about the pace of life in the U.S., and he told me about his previous camino trip, friends who had met and fell in love on that camino, now married and living the slow life on a farm. As he helped me up each loose, rocky step or sandy, steep hillside on the second mountain, Saulomon told me he was thirty-six; he was seeking that sort of love, a deeper love than he knew, and starting to feel age creeping up behind him. He asked my story, so I told him about bringing 17-year-old me along on this trip, and his eyes brightened. "And I am 21! So when we get to Santiago, you will have your 18th birthday!"
"And you will turn 22!"
"We will have such a party," he mused, reaching his hand down to me from steps above. "Drink wine, good food, and you will dance with me! You will be 18…," he flirted, winking, which made me laugh.
When we reached the top of the mountain, we found the remains of a castle, and I stopped to rest, thanking him. He asked if I would be all right, and I assured him I would. "See you soon," he called as he left to go flirt with a young blond woman near the stone walls.
Through the afternoon, I distracted myself by looking for a stick. I finally found one, a dry, slender, dead branch barely clinging to its tree. Having seasoned itself in place beside the camino, this smooth stick caught my attention as it seemed to reach out from the tree, like a friend's hand from higher on the trail. Grabbing hold with both hands, I snapped it free. Just the right height, it fit my hand. The bottom forked into two spikes, one longer, one shorter. It felt right, one end for me, one for 17-year-old me. Awkwardly, I began walking again, trying to sort out the rhythm of stick and steps. It would do until I bought a proper trekking pole, I thought.
Whenever I'd start to feel overwhelmed in the sun and lose my will to continue, a little orange or white butterfly would appear on the path ahead of me. Always ahead of me, over the center of the path, as if waiting. And so I would say, out loud, "okay, butterfly," and inevitably smile, and keep going a little longer. At some point, I realized I was going to make it, all the way.
I dubbed myself La Tortuga, The Turtle, slow under my weighty backpack shell. It let me laugh at myself. The butterflies sustained me in my darkest hours of exhaustion on the trail. I finally realized the friendly message they were trying to give me: lightness. So I would continue to lighten my pack; but I would also start lightening my mood in those exhausted times, and lightening my heart.
Daniel's way taught me that the gift of unexpected delight could lighten the hard times – but I had to look for those moments, choose to take delight. Once I looked, it was all there: bamboo, burros, and butterflies; bountiful lunches of laughter and flirty birthday parties. I could choose to take help when it was offered: advice, a reaching hand, an old walking stick to ease the load. Running on fumes was just running me out of gas, and then it was a heavy push from that point on.
Rest and renewal strengthens us. I understood that the biggest challenges of the Camino would not be its mountains. I had a lot to unload.