Sometimes you hear a voice through the door
calling you….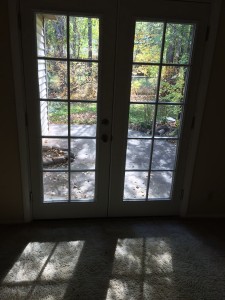 For the past year, I have been listening for that voice beyond the door, the one the poet Rumi listened for in 13th-century Persia. It has called to me several times. Last November, it was the voice of my son-in-law asking if it was time to go to the hospital, as my very pregnant daughter's intense face answered the question; we all changed forever as we crossed a new threshold with the birth of that sweet baby. We all got to live together for a time, in wonder and chaos, baby and parents and grandmother and uncles, moving in and out of each others' space and each others' lives in the rattly old house in Fort Collins.
In January, it led me out of my job in the homeless center in Fort Collins toward a similar refuge for homeless women in downtown Denver. During the week, I was welcomed to stay within the circle of friends' arms, within their generosity of spare rooms and morning coffee and daily greetings and partings. On the weekends, I traveled back up to Fort Collins.
Driving around apartment-hunting, I stumbled upon an interesting community in North Denver called "Aria." Here they were re-envisioning the 17 acres that had belonged to the Sisters of Saint Francis of Penance and Christian Charity – creating a mix of affordably-priced apartments, market-rate townhouses, low-income senior housing – even the convent itself was being fashioned into cooperatively-owned condos in the co-housing model. Community gardens, bike paths, bus lines, and a new lightrail station to be built within the next year all beckoned. Yet when I applied for the apartments, I was disappointed to learn that while my social work income reflected my own "vow of poverty" similar to the Sisters, I was $50/month over the income limit.
By mid-summer, I found a tiny one-bedroom apartment over a coffee shop near Sloan's Lake instead. Here my 13-year-old son and I brought the essentials of our home and learned the pleasure of letting go of things unneeded. He skateboarded ahead while I ran the path around the lake, we found a new favorite pizzeria, and even caught a Rockies' baseball game downtown.
I stayed in communication with Aria. They needed someone a few hours each week to provide their residents with community resources, and so even though I wasn't able to live there, I gained the opportunity to work there. On Friday afternoons I would arrive to meet with a young woman worried about her boyfriend's abusive tendencies, a family looking for utility assistance, or older people in need of slow conversation and time for story-telling. There always seemed to be just enough time to reassure, to connect, to enjoy.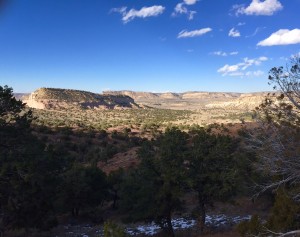 In July, my daughter and her husband moved with the baby to opportunity in New Mexico. Helping them move became a beautiful road trip into that quiet spaciousness. With a teaching job and a sweet little house of windows and wood floors, they began to unpack their boxes and their new life as a family.
Each weekend, my oldest son and I were emptying the old house. We had enough to furnish the little house in New Mexico, my apartment in Denver, and his new apartment downtown, and still bring load after load to donate to the thrift stores. When my second son moved back to Denver from the Midwest, he arrived just in time to share in the bounty…and the hauling. The old house was clean and clear. My younger daughter, finishing college in Boston, was able to see it one last time, and reminded me that she had made me promise to get out of that house and into the wider world before she graduated college.
In November, the house sold. I am free. I am keeping my word.
Last Friday, I arrived at Aria to an interesting conversation: a change had come, an unexpected opportunity. Would I like to work there fulltime? I told them I already had a great job during the week that I really enjoyed. Aria said they would match my salary. And – would I like the free apartment that comes with it?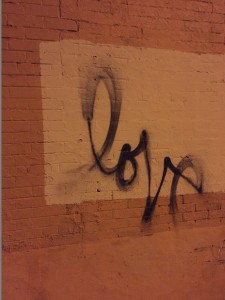 Sometimes you hear a voice through the door
calling you, as fish out of water hear the waves,
or a hunting falcon hears the drum. Come back. Come back.
Rumi was right. Don't give up. Keep listening for that voice calling to you. It is your own voice, calling you back to yourself in this one precious lifetime. Stay true. Sometimes the call is muffled; but at other times, it sings.
This turning toward what you deeply love
saves you. Read the book of your life,
which has been given you.

A voice comes to your soul saying,
Lift your foot. Cross over.

— Rumi